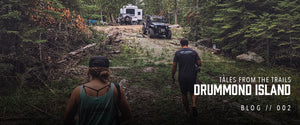 Tales from the Trail - Drummond Island - 002
Flashback to August 2018. Andy's wife, Kendell, had been planning his 30th birthday party for months. The party fell on a Friday and the KC crew (Blake and Amy) made their way up to attend the bday bash. The party was a success! Friends from all over the state and country gathered, Andy was completely surprised, and we all enjoyed a night of great food, plenty of drinks, and great company. The next morning we slowly gathered ourselves for a long weekend of Michigan exploring which would include some trails, rocks, site seeing, and much more. The trip started in Durand and we made our way up to St. Ignace which is where we would call home for the next few days. To get to St Ignace, you have to cross one of Michigan's most notable passage points which connects the Lower Peninsula to the Upper Peninsula: the Mighty Mackinac Bridge. Still, the western hemisphere's longest suspension bridge, The Mighty Mac measures in at about 5 miles in length, and cars travel up to 155 feet above the water. It's truly a modern marvel that gets your blood pumping no matter how many times you've crossed it.
As Saturday was much of a travel day, we enjoyed some local food in St. Ignace and relaxed, eagerly awaiting for the next day to come...
Sunday got here and we were up early and on the road from St. Ignace to another point where we'd have to cross water to make landfall but this time it was by boat or maybe better described, a ferry. It was everyone's first trip to Drummond Island. With over 40 miles of trails, we couldn't get on them soon enough...Crossing the water was an experience all its own but that's only where the fun began. Once unloaded, we traveled the better part of 10 miles into Drummond to find the local guest center where we would pick up a few trail maps to further plot our journey out and ask some locals for tips, tricks, and advice. From there, we set off to explore the South Easternmost parts of the island.
Our main point of attraction from a trail perspective was the famed Marble Head rock ledges but along the way, we wanted to check out some local history which included some shipwreck points. We looked and looked but kept running into private land and couldn't make our way to the points of interest. After failing to find our way we pulled off the main road to set up a picnic for lunch. After a quick bite, we loaded up and tried one more time to find these shipwrecks. Well, after another failed attempt where we just ended up on private land, we were about to give up and just start doing some offroading... As we were exiting the general area we saw a truck coming towards us. Kendell and Andy were in the front of the pack and as curious Michiganders, flagged the passerby down to see if they had any local insight. To our surprise, this is when we met Jen who would be our host for the next 90-120 minutes. Jen was in the middle of building a home that had over 200' of water frontage that sat on 35 acres and knew exactly what we were looking for. She told us to follow her and she would point us in the right direction. Knowing how much of "Up North" Michigan people are, Kendel and Andy had no issue on this adventure but Blake and Amy were a little apprehensive to just wander in the backwoods on someone else land. As we got to Jen's she instructed us to park off the driveway, basically in a tree line. She then met us at the tree line and began to walk us into the woods. As we traversed a trail through the woods one could begin to think, is this where it ends....? Nope! We got to her waterfront that is on an inland lake just off of Lake Huron where she had 4+ kayaks that she told us to explore on for as long as we wanted. So we hopped in and tooled around the calm, clear waters of Scammon Cove for the next 90+ minutes. We had all discussed kayaking earlier in the day but didn't want to pay for rentals nor take time away from the trail, so this little escapade was the best of both worlds! Both free and on a trail! As we wrapped up the kayaking adventure, we thanked Jen for being so welcoming and her generosity to just loan 4 complete strangers her kayaks and ability to explore aimlessly on her land. We found out that Jen had relocated from California to Drummond Island in search of water frontage to call her own and she really did land an absolutely beautiful spot fully encapsulated in the wilderness. Come to find out, Jen is launching her own island adventures from her home in Drummond Island with the first taking place in October 2020. Feel free to check it out at www.jensdenoffgrid.com
After the kayaking adventure, we set off to make our way to Marble Head! The trails we traveled looked to be some of the gnarliest on the island. We traversed through some deep mud holes that if wet and holding water could swallow our jeeps that are both outfitted with 3" lifts and 35"+ tires. The trip through the trails to Marble Head was scenic both in the woods and along Lake Huron on a rock scattered beach. As we finally make the turn to Marble Head trail, the whole trail itself changed from being more muddy and woody to rocky and open. Not really knowing what to expect, we got to the Marble Head rock ledges, went down and out to the scenic overlook at Marble Head not fully realizing that we had just gone down the very rock ledges we were geeked to climb up. As we took a few photos in the rain, we started making our way up the rock ledges, each picking slightly different lines and taking on the challenge. Our Jeeps got hung up in a few different spots due to varying wheelbases (Blake and Amy being in a 2 door while Kendell and Andy being in a 4 door).
Both Jeeps did what we wanted and after conquering the ledges, we were on our way to continue exploring the island. We had made our way to other notable sites on the trails including another spot on the beach, went over a wooden bridge, tackled the water trail (3'+ of standing water at least 2 or 3 football fields long. The day concluded with a sunset trip back to the mainland on the ferry and a calm drive back to our St. Ignace location.
In summary, Michigan is full of adventurous locations for both out of staters and local residents. Many hidden treasures that even the residents haven't ever explored. As a routine, we typically try to rotate trips both north and south each year. One year Blake and Amy will head up to Michigan for some Jeeping and enjoying some great Michigan food, drinks, and sites. The next year Kendell and Andy will head south to Kansas City, MO to enjoy BBQ, some city life, and then travel to our chosen offroad destination(s) while taking in varying sites along the way. We're fortunate to have friends with such common interests that are adventurous and open-minded.

---