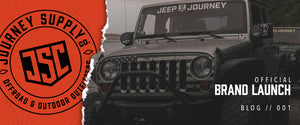 Journey Supply Co. - Brand Launch
Welcome to the Journey Supply Co. Blog!  
Here, we hope to document our many adventures, or shall we call them "Journey's". But first, a little introduction and backstory on the brand.
Journey Supply Co. is owned and operated by two friends from two wildly different states in the Midwest who occasionally meet up for some epic adventures. I myself (Blake) am from Kansas City, MO while my partner, Andy, is 700+ miles away in Swartz Creek, MI. Believe it or not, we met each other playing video games nearly 15 years ago.
I grew up trail riding quads with my dad for many years, with my first vehicle being a Grand Cherokee which got me through high school and most of college before finding a great deal on a slightly used 2012 Jeep Wrangler through another great friend of mine. About the time I was getting married, Andy was gaining an interest in jeeps himself. While he was in town for my wedding, I pretty much all but sold him one. A few months later, he found himself a 2013 four-door wrangler which, in theory, sparked the journey. Daily chats about what to do next to our jeeps, coordinating wheeling trips, and exploring the world together. I'm a graphic designer by trade while my partner is a bit more business savvy, so we decided to dive headfirst into this new venture.
Our brand is a couple of years in the making now, mostly because of our incredibly busy schedules, but we couldn't be more excited to finally be launching it for all of our wonderful friends, family, followers, and those who are just hearing about us for the first time. What started as "Jeep Journey" quickly became more than just Jeeps. We each share a special love for the outdoors whether it's trail riding, hiking, kayaking, biking, you name it.


Our mission is simple;
We're dedicated to providing a community that encourages others to get outdoors and explore the natural beauty around us. Our mission is to not only provide the necessary gear for the enthusiasts and like-minded, but to help get the next generation of explorers to experience the world, unplugged.


What we've got planned:
1) Apparel to start
We only want to provide the best quality garments. If we wouldn't wear it, we won't sell it.
2) Tales from the Trails
Our personal blog where we'll share epic stories from past adventures, exciting news, updates, and future explorations
3) Gear to come...
As we grow, we'll introduce new gear catered to the outdoors and offroading.
Share the Journey
What has your journey been like? We want to hear some of your favorite stories from past adventures. 
Tag us on Instagram or Facebook: @journeysupplyco & #journeysupplyco
 We'll repost our favorites for a chance to win some FREE swag!
---